TESTIMONIALS
---
Red Toy Schnoodles - Ruby & Scarlett
Hi,
The girls were completely perfect in the car, they didn't make a peep!
We are all besotted with them, at this moment Adam, our 21 year old, is lying on the floor with them. I can't remember what we did without them!
They have both had a small amount to eat and drink.
We just can't thank you enough for Ruby and Scarlett, they are just wonderful, so much more than we could ever have hoped for.
I am amazed at how placid and friendly they are, their poor little tails are running at a million wags an hour.
I hope you have the most wonderful Christmas, because you have certainly made our Christmas magical by allowing us to have Ruby and Scarlett.

Cheers,

Fran
Red Toy Schnoodles - Ruby & Scarlett
Hi,
The girls are absolutely fantastic! We adore them more than we ever thought we would.
The have grown heaps, Ruby is now 1.8kgs and little Scarlett is 1.4kgs. They had their vaccinations on Monday, and were perfectly behaved for the vet. They even had a kennel cough vaccination squirted up their little nostrils and didn't fret about it at all. We were so proud.
We've taken them for a few tiny little walks now that they've been vaccinated and they are pretty good on a lead. Ruby needed a bit of encouragement the first time, but Scarlett just loves it, she prances like a show pony. We actually had a lady pull over her car and ask us what breed the puppies were and where we got them from, another lady in the pet store wanted your details, and everyone they meet just falls in love with them.
Thank you so much for these beautiful little puppies, they are the most wonderful addition to our family, we can't begin to express how grateful we are.
Cheers,
Fran
Red Toy Schnoodles - Ruby & Scarlett
---
Parti Labradoodle - Bob
Hi,
Here's a pic from last Friday, Bobs first dinner party.
He's the cleverest, most handsome, funniest, friendliest, sweetest, cheekiest, sleep loving (I have to wake him in the morning), food loving best friend in Australia.
He's top in the class at puppy school.
I'm totally in love with him.
Thanks James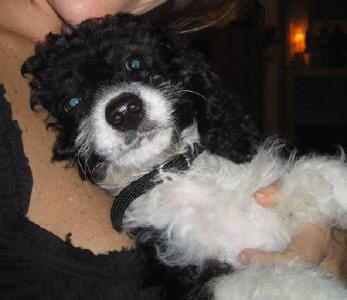 Parti Labradoodle - Bob
Hi,
Bob went for a 4 day beach holiday last week end and had a ball.
Every one is in love with him including Pippie shown here just one of many pals. (AND a portrait I did of him for a magazine).
He's already been mentioned 3 times in the Sydney press with one photograph and has featured on 3 websites and is in my company news letter and on some of the Christmas cards we've done, send you one when it's time.
He's the BEST boy and my friend who loves dogs, knows dogs and has dogs and cares for many others said "he's the MOST incredible dog she's EVER known" absolutely amazing how he knows what's going on.
He can now JUMP onto our bed, although often pretends he can't.
Went swimming but barked at large waves anything higher than 15 cms, he's very brave, quite naughty, but I've experienced worse and I love him to bits.
Best regards
James
Parti Labradoodle - Bob
---
Phantom Toy Schnoodle - Lotte
Dear Valley View and all the 'oodle' family I have come to know,
Words cannot express the absolute love, joy and excitement I have felt since my gorgeous Little Lotte came home three weeks ago. I feel incredibly blessed to have the most perfect puppy. Lotte really is my dream come true and I can't imagine my life without her.
Everyone comments that Lotte is the cutest and most adorable pup they have ever seen. People actually ask if she is real as she looks like a toy. Her unusual coat of many colours continues to grow more and more fluffy and soft.

Lotte is such a cheeky, outgoing, affectionate, super intelligent, loyal and incredibly well adjusted puppy. Having met her sweet natured mother Pepper, I understand where Lotte's beautiful nature comes from. I see so much of Pepper in Lotte's eyes. When she tilts her head from side to side as I am talking to her, my heart melts. She is so knowing and really seems to understand everything I say to her.
From day one at home, Lotte has successfully used her toilet stations, cleverly fetched her ball, happily gone to bed after kisses and cuddles and slept right through the night. She eats very well and playfully entertains herself for hours, choosing toys from her toy box. I haven't taught her yet to put her toys back but we will work on that. While brushing Lotte, she lays on my lap happily while chewing 'Bunny'. She knows some of her many toys by name. Amazingly, Lotte learnt to Come, Sit and Wait in 2 days. People are extremely impressed when they see my little fluff ball sitting at the kerb before we cross a road. She loves her Grammy and Pa and especially her big sister Millie who lives 2 minutes away with my parents. It is beautiful to watch them playing together. Lotte is brilliant in the car and loves going to cafes where she attracts the attention of everyone. For such a little dog, she walks with great energy and cleverly, she knows her way to the different places we visit. Before school broke up for Christmas, Lotte joined me at work each day for a few hours. She loved mixing it with the kids and followed me everywhere around the school. Lotte is never far away from me.
It is an absolute credit to you that Lotte is so calm and unfazed by anything. Her confidence and curiosity yet placid temperament, constantly amazes me, my family and friends. Everyone wants to know where I got her and how I found you. I happily tell them all about Valley View and how brilliant you have been. I was thrilled to meet you when we visited Lotte at 4 weeks and loved receiving the photos you sent me, showing how she was developing at each stage, from a 1 week old pup to the adorable little girl she is now.
My heart overflows with love for my gorgeous bundle of fluff. We are looking forward to our first Christmas together.
Thank you so much for everything. As promised, I will stay in touch and fill you in on how Lotte is going.
Warmly,
Paula and Lotte
Phantom Toy Schnoodle - Lotte
---
Chocolate/White Parti Spoodle - Chesterfield
HI VALLEY VIEW , I LOVE MY DOG ..I HAVE NAMED HIM CHESTERFIELD AND HE IS SUCH A GOOD BOY...HE IS ALREADY LEARNING TO GO OUTSIDE AND JUST GIVES US SO MUCH LOVE...I WANT ANOTHER ONE ..
Constantinos
Chocolate/White Parti Spoodle - Chesterfield
---
Toy Schnoodle - Ozzy
Hi,
It was lovely to meet with you VERY early this morning but it was truly worth it! Thank you sooo much for Ozzy we already adore him (how could you not!). He has had a really good day and seems happy in his new surroundings. He has played and slept and he ate very well at lunchtime. I followed your instructions carefully with exact brands of food and mixed it with some fresh mince beef. I also gave quantities on package for toy sized dog and age. He ate it all! I will do the same for dinner.
Ozzy has gone to the toilet most times on the newspaper and I will follow your advice to let him outside for the toilet after eating and sleeping. We are getting to know his little signs :)
He absolutely loves to be close to you for lots of cuddles and just to curl up and go off to sleep.
We promise to look after Ozzy for you both and I can assure you he will always have the best of love and care.
We felt pretty bad having to take him this morning as we can see how much you loved him too.
We also love the name and think its just perfect.
Thanks for all your detailed information attached. Your little booklet was also really good.
Kind regards,
Julie-Anne, Rod and Noah
Toy Schnoodle - Ozzy
---
Chocolate Spoodle - Tombi
Hello
I have attached some pics of Tombi on the beach Sunday morning.
She is delightful & we are so happy with her.
She amazes us with the amount of character one so small can have.
She is getting lots of love & attention.
Thank you once again.
Much appreciated.
Tony & Skye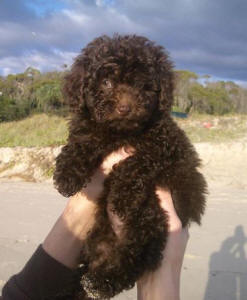 Chocolate Spoodle - Tombi
---
Maltese Poodle - Minky
Dear Valley View
Minky turned three on 21 Feb this year (2003). I have attached a photo of him licking his birthday cake as well as some other cute shots.
The recipe for the cake is listed below.
(Dog Birthday Cake Recipe)
Kind regards
Liana
Maltese Poodle - Minky
Dear Valley View,
It has been a while since I wrote to you but I just wanted to let you know how our wonderful little Minky is doing.
You may remember my sister Katya and I bought Minky from you about 6 years ago he turned six last February.
He is the most joyous and wonderful pet we could ever have imagined owning. From the day we brought him home he has just been the perfect dog. He is very obedient does not bark or get aggressive in public, he has never ever bitten anyone, he is friendly towards other dogs. He goes almost everywhere with us. Every day he has at least one walk and often goes out on appointments when we work.
Here are some recent photos of our beautiful boy. I would love to hear from you.
Kind regards
Liana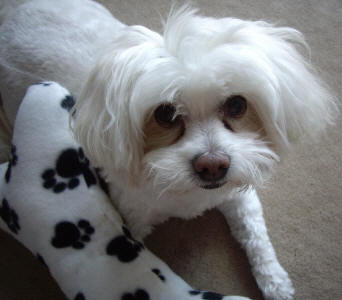 Maltese Poodle - Minky
---
Chocolate Labradoodle - Max
Hello Valley View Dogs Team,
Just wanted to let you know how happy we are with our Labradoodle that we bought from you in July 05. Max is now 18 months old and loves his new life in Richmond, where there are lots of dog parks for him to play with all of his local friends.
I have attached a photo of Max as a puppy and as he is now.
Best Wishes to you and all the dogs there!
Kind Regards,
Fiona
Chocolate Labradoodle - Max
---
Miniature Schnoodle - Rosie
Hi,
Well she is sound asleep in her new bed, has been for a couple of hours now.
She is just beautiful and smells like a powder puff. The children were beyond excited, they just could not believe that she was theirs to keep. They have decided to call her Rosie.
She was great in the car and warmed to us all immediately, I can only assume she has had lots of contact with many types of people already in her short life. It was quite funny when we collected her from the airport, we met another one, black, curly, looked just like her in the car park of the airport being lead by her family. They said that she was 15 weeks old.
She ate her food very quickly and drank lots of water when she got to our home. We are so very pleased with her and we will highly recommend you to as many of our friends who will listen long enough to us raving on.
Thank you so much, it has been a pleasure chatting to you and I will keep you updated about her progress.
Kind regards,
Suzy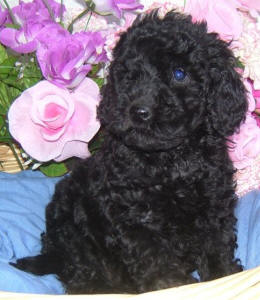 Miniature Schnoodle - Rosie
---
Cafe Labradoodle - Lucy
Hey,
We bought a Labradoodle from you guys at valleyview and we thought we would send some pictures of our little girl Lucy for you to put on your website. Lucy is just over 6 (human) year old now :)
She has a wonderful personality and keeps us company.
Thankyou,
Becci
Cafe Labradoodle - Lucy
---
Toy Schnoodle - Muffin
Hi,
Muffin is an adored member of the family. She is a very busy dog. She sees the children onto the school bus every morning at 7.30am. It was cold on Friday so she wore her leather look lined jacket, and the kids called her 'bikie puppy'. She sometimes does some shopping at the local supermarket, where she stays at the front entrance and 'talks' people into petting her and telling her how gorgeous she is. She loves her routine and almost always has a nap mid morning. Her job is to keep the wild ducks away from the pool, so she always keeps an eye out, and chases them if necessary. Last summer she enjoyed swimming in the pool and would do these running jumps into the water - head down, front paws straight out, and back legs flat out - just like Thorpedo. Sometimes she preferred to float around on the lilo.
She is about 16months now and starting to calm down a bit. She now comes when she is called almost always, and we are constantly amazed at how smart she is.
I think you can probably tell how she is a much loved member of the family. Hope all is well with you. Thank you for Muffin.
Bye,
Lauren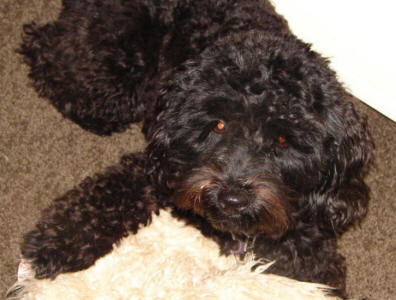 Toy Schnoodle - Muffin
---
Chocolate Labradoodle - Koko
Hi,
I thought you might like to know how Koko is going. He has given us much pleasure, as he is such a happy, easy fellow. He adores our other dog Millie and she is always very good with him, and they play and play. He has walked on the beach nearly everyday since he came here and enjoys puddling in the sea. Today he had his first swim! It was only a few strokes at a time and he probably repeated the performance 4 times and he was very pleased with himself. He watches Millie swim every day and has been trying to pluck up the courage. He must have enough strength now as he seemed to do it easy. Hope he loves swimming as much as Millie and they can go together when he is fully grown.
He is a star at obedience and was promoted from puppy group after only two weeks. We never have any trouble with him not learning. He is inside most of the time and knows exactly what he is allowed to play with etc. We haven't had a disaster yet!
Everyone he meets loves Koko and he has lots of pats on our walks.
Thanks for the lovely dog,
Marianne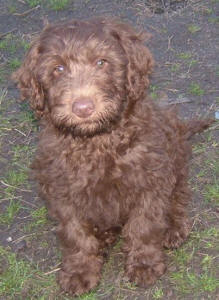 Chocolate Labradoodle - Koko
---
Toy Schnoodle - Schnooks
Hi,
I have been meaning to email you for a while. I bought Nadine's female pup and you flew her to Brisbane for me. She was a little nervous for the first few days so I strapped her to me with a sarong. Now nervous is not an appropriate description!!
I have called her Schnooks and she is an absolute joy. She has fundamentally changed my life.
She is now over 4 months old and has turned a gorgeous chocolate brown.
We graduated from puppy pre school last week and she had her fan club to observe (my best friend, god son and house mate). The object was to take our puppy's to the front of the room and demonstrate their tricks. Well I told schnooks to sit and she sat, lifted her paw for a shake, dropped to the floor and rolled over before I could get a word out. So, she has proved that she is smart, all I need to do now is to teach to her wait for the commands. I am planning on taking her to advanced obedience classes.
She has a blessed life. I work from home she is rarely alone. When I do have to work out of home, she gets taken to my parents to play with their 12 month old Maltese Poodle.
Last Friday she had her first clip (they were very impressed and commented how calm she was and that I obviously spend a lot of time with her). She managed to rip her ribbons out within 10 minutes of being home. We then went to several art exhibition openings and she was definitely the main attraction. I carry her in a green Coles bag and she enjoys visits to the supermarket and just about everywhere else I go. The only place I can't take her is to the swimming pool but I figure its good to have some separate time!.
In some ways you could say she is spoilt but only in appropriate ways. She is happy sleeping under my bed. She never gets fed from the table and has never begged. I am delighted and surprised that she doesn't ever bark. I knew I had a good dog within a few days of her arriving. For the first week, whenever I went out for a swim, I would lock her in the crate that she arrived in (now she has my bedroom which has a veranda and her toilet). She would watch me round up my handbag and keys. By day three, as soon as I picked up my handbag, she had put herself in her crate. Needless to say I am very much in love. The park down the road from me has numerous houses backing onto it, one of which is home to a 9 month old Schnoodle, Snoopy. They love each other and its a joy to watch them play. I have recently moved to this location and having Schnooks to walk has really bonded me with the local community (she can't walk past anyone without saying hello and it is wonderful to see her provoke so many smiles!!) Schnooks is fantastic with kids, gentle and considerate. Thank you for breeding and selling me such a bundle of joy.
Warm regards and many thanks,
Eileen
Toy Schnoodle - Schnooks
---
Chocolate Miniature Schnoodle - Ferny
Hi,
I just wanted to send you a copy of a photo of our miniature schnoodle puppy (now named Ferny), that we adopted from you in May. We think she is very cute and of course, super intelligent. She has passed her first term at Puppy school!!
Thanks again,
Asha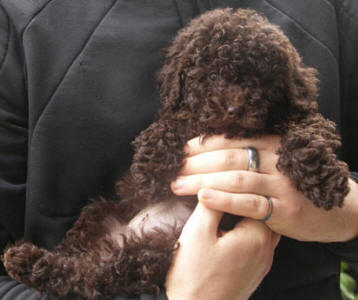 Chocolate Miniature Schnoodle - Ferny
---
Chocolate Schnoodle - Charlie
Hi Valley View,
I just wanted to write to let you know that the puppy you allowed us to adopt is now affectionately referred to as Charlie, and is very well and enjoying discovering his new surroundings. I have attached a photograph which was taken a couple of days ago. He's looking increasingly handsome everyday and I think he knows it. His fur is beautifully soft and he always gets flattering comments from people about his colour. We gave him a bath last week which he wasn't awfully keen on, but at the same time he also wasn't too phased by either – so I'm hoping this will be a sign of a cooperative dog when it comes to grooming.
We took him to puppy pre school which was a great success, he was able to make lots of friends and test out his vocal skills and even challenge a few bigger dogs to a bit of rough and tumble. Pre school has taught us a lot about the best ways of taking care of Charlie which we really appreciated because he is our first dog. We hope to progress him to puppy school in a couple of months time once we have the basic commands done. In fact talking of commands Charlie was "sitting" the week after we brought him home, we were really impressed with how smart he has been.
Since day one Charlie has been very sociable with everyone and everything so we have encouraged him to meet as many vaccinated dogs as possible such as our friends' Labradoodles and Weimaraners. Now he loves nothing more than to get in the car and go for a BBQ, because he can play with his friends.
Thankyou very much for breeding such a fantastic dog and allowing us to take him from you.
Kind regards
Louise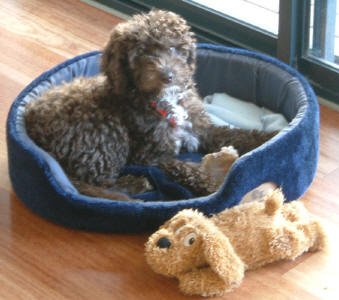 Chocolate Schnoodle - Charlie
---
Labradoodle - Sam
Sam has just had his first birthday (April 17 2007) so I thought I'd share some photos of him with you.
Cheers,
Helen
Labradoodle - Sam
---
Chocolate Spoodle - Moscow
Hello,
We bought our little Spoodle, named Moscow, off you last year and just wanted to tell you how happy we are with him.
He has made a wonderful pet, we just love him. We're constantly asked what kind of puppy he is and where we got him from.
anyway, I just couldn't resist sending you a photo.
all the best,
Michelle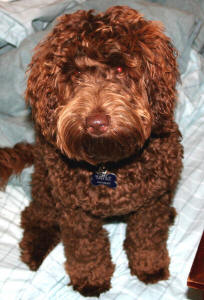 Chocolate Spoodle - Moscow
---
Schnoodle - Max
Hi Everyone,
Well after two days on international travel Max finally arrived in Macau.
Max had a bath which he thoroughly enjoyed, a brush which he was pretty good with, hovered down a feed before promptly making himself right at home and he has been by my side ever since. I think by the end of the night he will be fine.
He was a little scared of the cars when we went for our first walk on the lead and we had to pick him up, but he quite happy to look down on the cars from the our 12th floor balcony.
Thank you both for all your assistance with Max.
Kind Regards
Karen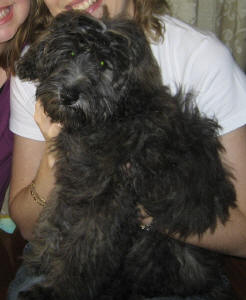 Schnoodle - Max
---
Chocolate Schnoodle - Kaluah
Hello,
You may remember me. We purchased Kaluah (a chocolate Miniature Schnoodle) from you back in August 2004, whom you sent to us overseas in Vanuatu. She is a such a delightful, loving, fun, caring and dedicated dog!
We are now moving back to Queensland, and Kaluah, of course, is moving back with us next week. I thought you might like to see how she's doing, so I've attached a couple of photos for you to see what she looks like. These were taken just after I gave her a final trim in preparation for her flight next week, so her coat is rather short, but she's beautiful nonetheless.
Wishing you all the very best for the New Year.
Kindest regards
Sabrina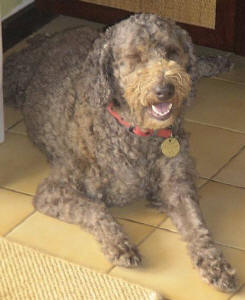 Chocolate Schnoodle - Kaluah
---
Chocolate Labradoodle - Jasper
I thought you may like to see one of your little pups growing up.
Jasper has grown a lot since he first arrived. He is a little ball of energy and keeps us constantly entertained with all his tricks.
He has a great personality and is a great little dog.
Kind Regards
Samantha
Chocolate Labradoodle - Jasper
---
Chocolate Miniature Schnoodle - Ollie
Hi,
Ollie is now eight months old. He is doing very well and loves his home. He is very spoilt. He missed his mother Sarah for the first few days, however he is now happy curling up with his new mum and dad on the end of their bed. We want to thank you for such a beautiful dog as we love him very much.
Kind regards,
Liz, Matt and Ollie
Chocolate Miniature Schnoodle - Ollie
---
Toy Schnoodle- Abby
Hi,
I bought a female schnoodle from you about 6 weeks ago, we called her Abby. I have attached a few photos for you. She is beautiful we love her so much, she is such a good puppy. We took her to puppy school which she loved, she is very well behaved most of the time but gets very excited around other dogs. I will definitely get another sometime next year. I have been looking at your website and hopefully you will have some more toy schnoodles next year so we can get her a little buddy.
Thankyou
Liza
Toy Schnoodle- Abby
---
Labradoodle - Ruby
Hi,
Its Ruby's 1st birthday today. Just wanted to let you know that she is doing really well. Although Chris and I are away a lot, she spends her time between our place, and my mum and dads place. Mum and Dad live in a beautiful house on the water in Brooklyn, about 25 mins from where we live, they have a golden retriever and a shitzu, and are retired, so all dogs are very spoilt. When I am at home, I take her to various dog parks. Her favourite is the oval and beach at Bayview, on the Northern Beaches. It is basically a huge area set aside for dogs, with enormous boats sailing by. Last time we were there, Ruby met her aunty Buffy (I think that was her name). She was from the same litter as Aliza. Anyway, she has had a day at Bayview, and as I type, is fast asleep on our bed. She must be very tired, as she usually has to be in the same room as us.
After knowing Ruby, I hope you are all fairly picky with who you send these dogs to. They are very intelligent, and great natured dogs. I wouldn't swap her for the world.
Thankyou again,
Jane.
PS Ruby plays hide and seek with her toys (we hide a ball, and she looks for it), she will continue looking for as long as 40 mins until she finds it. Her concentration span is amazing!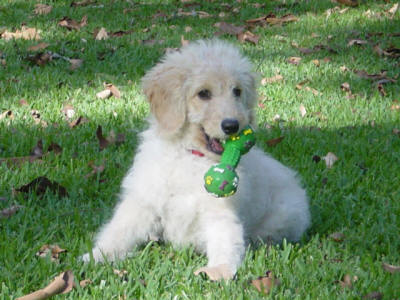 Labradoodle - Ruby
---
Labradoodle - Molly
Hello
Molly has just had her 1st hair cut (she is so cute) we love her more everyday. She is into everything and we have supplied her with so many toys we have them spread all over the house. Her first puppy school starts soon, will let you know how she does.
Best regards
Ruth
Labradoodle - Molly
---
Schnoodle - Scooby
Hi,
Just thought I'd send a quick email to say thanks again for Scooby! He's a wonderful little dog who is quick to learn and eager to please. He always sits on command and is slowly learning to sit and stay. He's great friends with the house cat, and loves my parents bull mastiff. He has no fear whatsoever! He's very spoilt, but not yappy or wary of
strangers. perfect really! My parents will be looking after him while I'm away for 2 months. They don't think the name Scooby suits him but I've laid down the law that they're not to change his name and register him for themselves (they're madly in love with him and are considering getting a schnoodle also).
Schnoodle - Scooby
---
Toy Schnoodle - Mitzi
Hi,
Mitzi is just gorgeous, I couldn't have asked for a better pet. She surprises me - she's quite a good little watchdog! Growls because people are walking past the house! She's clever too - I have a hearing problem and she'll be with me up here on the computer typing away and Mitzi tells me there's somebody knocking, by running down a few stairs, back to me, down a few stairs, back to me, until I go down to see.
She has two walks a day, in the morning to the beach and in the afternoon to the park. I couldn't figure out how she always knows when we are going for a walk. It's not picking up the car keys because we're walking. It's not at the same time each day. Then I realised - it's when I put on my walking shoes! As soon as I started tying them up the other day, she began leaping around in circles like a monkey in the circus and it dawned on me - it's the SHOES!
She is absolutely hilarious when I let her off the lead at the beach. She has this peculiar run where she tucks her bottom under and hurtles off, races around and around in great big circles, sometimes she chases birds or swans RIGHT INTO THE WATER, and she hurtles back to me and skids to a stop on the sand with the brakes on all four paws, real pleased with herself. Her eyesight is amazing, she can see seagulls on the beach way, way down, where to me they're just specks, so she zooms down after them and after she's scared them off she zooms back to me. She has a friend, Coco, chocolate toy poodle, he's there on the beach sometimes with his mum, and he stands in confusion while Mitzi runs around him in her big circles, sometimes while she's running around him she bumps into him on purpose - I think she's trying to make him play and run too, but he just stands there. Coco comes back here with his mum, we towel them off and dry their feet, then the two dogs sit in our laps being sooks while we drink coffee and talk.
At the park she follows a scent (rabbits) she's got her nose to the ground and hurries along, here, there, everywhere they've been. If she's following a scent she pretends not to hear me call her, but I notice if I walk the other way, she's beside me in a second.
Really, she couldn't be more perfect as far as a pet is concerned. I've got a gorgeous big garden - she never digs and never tramples over the plants like my other dogs used to. She's with me every minute, while I'm gardening, while I'm on the computer, she waits outside the bathroom, she likes going out in the car. Her fur is just starting to grow so that the big bushy eyebrows are making it hard to see, so when she's had her first trim here (next week, and the grooming lady comes to the house) I'll send you some photos.
I hope all is fine in your world. Thank you again for letting me have Mitzi, I just love her to bits.
best regards, Wendy
Toy Schnoodle - Mitzi
---
Labradoodle - Bare
Some more pictures of Bare.
As you can see he is growing very quickly and is a joy to have around. Bare is quite good with children. Thank you very much for a wonderful puppy. I will admit he is a little spoilt. At first my family and I all said he will be an outside dog but from the word go he has slept inside. I prefer to have him inside at night. Except at 5.45 each morning when he wakes me up to go for a walk.
I wouldn't swap him for the world.
Regards
Jessica
Labradoodle - Bare
---
Maltese Poodle - Chloe
Just a few photos of our Chloe, hope you like them.
As you can see she is very spoiled and rules the house.
She is just like her mum and loves to sleep on mum and dads bed at night.
We would like to say thanks again for our little darling, she has brought much to our lives.
She loves everything we eat but that is ok because she is a very spoiled little girl.
Thank you
Julie
Maltese Poodle - Chloe
---
Labradoodle - Coco
Hi,
I thought you may enjoy a few pics of Coco.
She has been very happy at her new home!
The children all very much enjoy her funny nature… she is very playful, and loves jumping through and over the hedges… she thinks she is a show jumping pony!
We started puppy school last week with her & she is a very clever pup who is easily trained & very responsive.
Thank you again for this lovely dog!
Kind regards,
Peter.

Hi,
Coco has been the most amazing companion, family member and character you could imagine.
She is always getting herself into trouble and her attempts to jump in the air to catch birds are hilarious.
We have stone walls all through our tiered garden and we are sure Coco thinks she is a deer as she leaps through the air gliding over the walls!
She really is a pleasure and we are very proud of her as a family member… she is two next month and my daughter is planning her party… I am sure she will love the attention.
I have attached some recent pictures… she just loves getting pictures taken.
Kind regards,
Peter.
Labradoodle - Coco
---
Labradoodle - Meg
Hi,
Meg has settled in better than we could have hoped. She is eating well and playing with the children who love her. She went for her first walk in the park today and didn't take long to get used to the lead etc. Yes, our back yard has big porch, but I'm going to keep her in for a week. When the weather gets a bit colder I'll get her a kennel too.
Best Regards,
Steve
PS. I have attached a picture of her with our oldest daughter, India.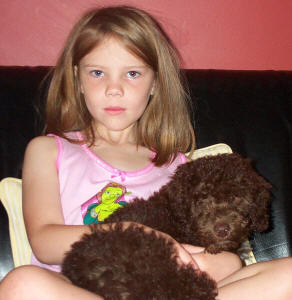 Labradoodle - Meg
---
Schnoodle - Spud
Hi
Just thought I would drop you a line to let you know how Spud is getting on. Spud is now around 9 months old. After we came to collect him we drove back to Melbourne and flew back to Sydney with him that night. He took a couple of days to settle into a routine but then never looked back. He is very adaptable and fits in to any environment. He gets on extremely well with other dogs and cats. He has become a great watch dog, challenging anyone he has not met before with a firm bark. Apart from that he hardly barks all so does not disturb the neighbours. He loves running free at the local park and swims everyday in the local river.
Thanks for giving us a great dog. We are not sure where we would be without him now.
Take care
Steve
Schnoodle - Spud
---
Maltese Poodle - Kenny
Hi,
Thought you might be interested in seeing these photos of Kenny - the absolute light of our life.
Isn't he just the cutest little doggie in the whole wide world?
Marjorie and Ted
Maltese Poodle - Kenny
---
Labradoodle - Phoenix
Hi,
Thought I would drop you a quick note to let you know Phoenix is doing really well. he is absolutely fantastic and lots of fun. He is currently going to puppy school and is definitely the boss of the class.
Labradoodle - Phoenix
---
Labradoodle - Brewster
Dear Valley View,
Well we are so impressed with this baby. He's potty trained!! I couldn't believe it. Such nice work you do with your puppies. They love people and get along so very very well with other animals. The smartest dog I've even had the pleasure to own! I don't know how you do it, but you do a wonderful job of training with such a small baby. His name is definitely Brewster as it fits his little sweet personality. Will send pictures soon.
Kind Regards,
Lynn and Gerry
Labradoodle - Brewster
---
Labradoodle - Nelson
Hello,
I managed to get some piccies of our spoilt rotten Nelson. Hope you all like them!
By the way he is going to dog training classes and is doing well.
Cheers,
Myrian, David, Alison and Madeleine
Labradoodle - Nelson
---
Chocolate Miniature Schnoodle - Coco
We are so in love. She is adorable. We don't need a TV anymore, she keeps us nicely entertained. She weighs 1.6 kg and a ball of cuteness....
My parents brought their poodle "Gucci" around yesterday and it was highly entertaining. Coco ran the roost.
We thank you so much for providing us with such a loving and affectionate little girl whom we will love forever.
From Mumma and Dadda to Coco....
Regards,
Penny
Chocolate Miniature Schnoodle - Coco
---
Labradoodle - Moby
Dear Valley View
Thanks so much for selling little Moby to me. He has been an exceptionally good dog. Once he overcome the culture shock of moving to the city, he has become very confident. I live near a train line and he nearly fainted the first few times the trains went by - but now he doesn't even seen to notice. He is getting used to going for drives in the car, and has only thrown up twice - must be my driving! Moby is a very intelligent dog, and learns very quickly. He has got heaps of toys to play with, and seems to happily amuse himself when I'm not there.
Anyhow thanks again. Moby is a good little friend to have around.
Here is a pic that I took of him in the backyard.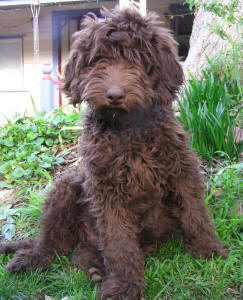 Labradoodle - Moby
---
Labradoodle - Madge
Dear ValleyView,
We thought you might like some photos showing Madge enjoying her first Christmas. She is growing very well and is a total delight. She and Sophie (her spoodle sister) are the best of friends and love a good "rumble". She has suddenly learned how to jump and this is a photo of her on the sofa - looking very pleased with herself!
Hope you are well,
with regards,
Robyn
Labradoodle - Madge
---
Chocolate Toy Spoodle - Fletcher
Hi Valley View,
This is Nikki who brought Fletcher from you about 4 months ago. He is the Chocolate Toy Spoodle who is now 6 months old.
We thought you might like to see some photo's of how the little one is progressing!!
Toby and I are so happy with our little man he is very cheeky, intelligent and most of all gorgeous who rules the house. Such a loyal little boy who enjoys everyone's company.
We are always being stopped in the street to find out were we got him from, so you have been recommended a number of times by us.
Thank-you
Nikki
Chocolate Toy Spoodle - Fletcher
---
Labradoodle - Spike
Hi,
I thought I'd give you a quick update on Spike.
He's settling in beautifully and last night was quiet all night! Spike is happy just hanging out with the girls and I during the day, sleeping, eating and then some crazy running around.
He's walking on the lead around our garden and is learning to sit and come when called. His personality is starting to come through though sometimes he's happy to lie around and watch us coming and going.
We've taken him out and about, we are carrying him until he has been fully immunized and seems to enjoy sitting on our laps whilst we go for a coffee or run our errands.
I even took him into my office and he promptly fell asleep, so I think he'll be happy to come to work with me which is what I had hoped for.
Many thanks
Maria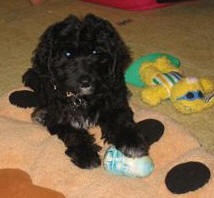 Labradoodle - Spike
Hi,
I thought I'd give you a quick update on Spike. He's turning into a lovely big boy and has just finished puppy pre school!
He now weights almost 8kg, so I think he will be a good size! He's got a lovely nature and enjoys hanging out with the girls, but is still happy to come to work with me and snooze under my desk.
We took him for his first full day and night sailing last weekend and he was great on board, he slept on the deck and was very quiet, we were relieved there was no howling at the moon! He soon found his sea legs, though I think he did feel a little queezy when we went off shore but he soon settled down and was happy to sit on deck and watch the waves rolling past.
With best wishes
Maria
Labradoodle - Spike
---
Black Toy Schnoodle - Tiger
Hi,
Here's our dear little Tiger who is 16 weeks old tomorrow.
He is the loveliest little fella with a lovely nature and hasn't caused us any problems at all.
He graduated from Puppy School with the Trainer saying that he's certainly a real person puppy, everyone wants to cuddle him.
You're right too he's a very very smart little fella, picks up new things immediately.
What amazed us was the way he bounded upstairs here like a mountain goat, he is so quick.
Hope you're well...
Lyndsay and Di.
Black Toy Schnoodle - Tiger
---
Labradoodle - Buckley
Hello,
Here are some photos of our rapidly growing puppy, Buckley. He is a beautiful dog, and looks exactly as we wanted him to.
He gets at least one walk a day, and usually at least one brush as well. He is very good out on a walk, and also sleeping outside and just being outside most of the time, even when we are inside.
He loves his water bowl, and loves to sleep in it when it's really hot!
Thank you for a lovely puppy.
Catherine
Labradoodle - Buckley
---
Miniature Spoodle - Tiger
Hi Valley View,
Here are two current photo's of our little girl Tiger. We picked her up from the airport in early December and to our surprise was almost fully toilet trained from day 1. She is the most beautiful puppy in both temperament and appearance and is such a clever little thing. She has bought us a lot of joy.
Thanks so much for our chocolate Spoodle we totally love her.
Maria
Miniature Spoodle - Tiger
---
Miniature Labradoodle - Roy
Hi,
I just wanted to send you a couple of pictures of Roy. We love him soooo much and he is very spoilt.
The first one is in July 07 when he had his first hair cut, he looks very fluffy, I think he was a bit embarrassed, he doesn't look impressed. The second one is from grand final day yesterday, he is looking a bit scruffier, which is his usual look.
Hope you enjoy the photo.
Regards
Steph and Rich
Miniature Labradoodle - Roy
---
Snoopy
Hello
We would like to thank you for our beautiful dog we call Snoopy.
He is just the best dog. He is a lovely natured dog and the baby in our family.
We couldn't be happier with Snoopy. He is a great dog for the children to have as a pet.
He is really cute and very obedient. He is very intelligent as he has learnt many tricks such as , sit, stay, lay down, play dead, shake hands and is really good at returning the cricket ball in a game of cricket. The best thing is it hasn't been hard to teach him any of this.
He spends a lot of time inside with us. We love that fact that we haven't found any dog hair inside ever!
Many of our friends think he is just the best dog ever.
Thanks
Cathie
Snoopy
---
Chocolate Labradoodle - Chewy
Hi Everyone,
Here is a cheeky chewy. she is just gorgeous and we are great mates but she is also a little devil when she wants to be. I am glad we are past the first 2 weeks as I am not sure I knew what hit me. I was so amazed that such a little ball of cute fluff could get the better of me.
Now she is lovely, learning lots, sleeping outside and near on 100% with house training
chat soon
Sonya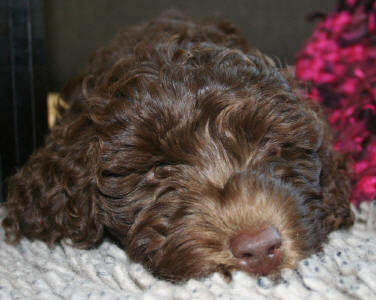 Chocolate Labradoodle - Chewy
---
Schnoodle - Buddy
Hi,
4 years ago we purchased a Schnoodle pup from you. We just wanted to contact you to let you know what a wonderful family member Buddy is. He is absolutely adored and spoilt rotten. Thanks so much for breeding such a healthy beautiful dog he is a true gem and loved so much. I have attached a recent photo of Buddy in one of his favourite spots in our house, the stairs.
The O'Brien family.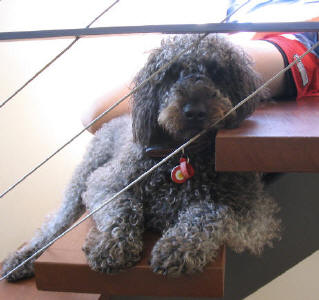 Schnoodle - Buddy
---
Schnoodle - Cooper
Hi Guys,
Just sending you pic's of our boy Cooper on his first birthday which was a few weeks ago
We love him to death and spoil him rotten, but that is what it's all about.
Thankyou from the bottom of our hearts for such a little treasure.
Warm Regards
Cooper's Family.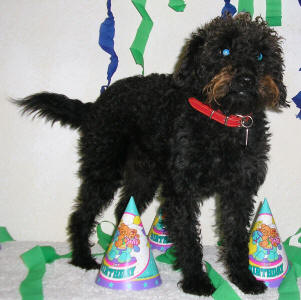 Schnoodle - Cooper
---
Chocolate Labradoodle - Chelsea
Hello There,
Chelsea steals every ones heart. She loves to play, so in the evening I have a game of catch with her, and Eric takes her for a walk every night. She also loves going in the car, and when the car stops she hops on to Eric's knee until I come back.
We decided to take her to places after she had her final injection. Chelsea now goes up to the shops, the Sunday Market, and also to big park which is within walking distance.
We took Chelsea to Puppy Training at the Vets, which she passed, then on to Obedience Club, which she passed.
Chelsea nearly always catches people eye, and they are completely won over.
Thank you for Chelsea.
Cheers Lynda
Chocolate Labradoodle - Chelsea
---
Chocolate Spoodle - Java Bear
Hi,
I just wanted to send you an up date on Java Bear (we named him Java because he is coffee colour and I call him Java Bear because he looks like a teddy bear). He is now 18 months old and a very smart and beautiful boy. He was definitely the smartest one in puppy pre school and learnt to go potty outside within a week. Everyone in the neighbourhood knows who he is and he loves cuddles and going for a walk. I have attached some photos of when he was a baby and from now.
Thank you so much for him, I will never forgot the day that we drove out to your place not knowing that we would be so lucky to be able to bring him home.
Cheers,
Peta, Helen, Rex and Java Bear
Chocolate Spoodle - Java Bear
---
Spoodle - Charlie
Hello,
We purchased a Spoodle from you in April last year and we have had nothing but complete joy with our beautiful dog. He has become a very special member of our family. He is fantastic with children and has "cured" three children in our extended family of their fear of dogs. We have done some training with him and he has done really well.
Thank you for giving us such a beautiful creature.
I've attached a recent photo for your interest.
cheers
Lisa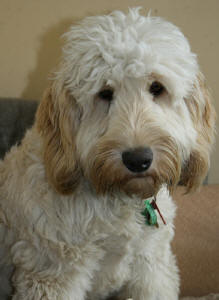 Spoodle - Charlie
---
Maltese Poodle - Carlo
Dear Valley View,
Please see attached photo of Carlo. He is the most adorable little dog. We all love him to bits. He is clever, good and not a yapper. He wins everyone's heart and it is hard to believe that he is nearly one.
The kids are talking me into getting a playmate for Carlo.
Regards
Bronwyn
Maltese Poodle - Carlo
---
Chocolate Spoodle - Koko
Hello,
Thought I'd send you some photos of Koko. He is without doubt the most beautiful puppy that ever existed! He is very social and has to greet every human, as well as every other dog he comes across. We get continually stopped and told how beautiful he is and asked where he came from. We always tell them about you. As you can see from the images, he loves my bed and he has taken over the house.
Thanks for our Koko.
Cheers,
Carolyn, Darren & Tamzyn.
Chocolate Spoodle - Koko
---
Miniature Spoodle - Baci
Hi,
Thought you might like to see some recent photos of Baci. He's had his first little haircut on the weekend! He's now almost 6 kilos, not fat at all, but looks like being a pretty big boy.
We love him so much.
Regards
Liz
Miniature Spoodle - Baci
---
Schnoodle - Oscar
Hi there
I just had a look at your website and it looks fantastic! It inspired me to write and tell you about my Schnoodle, Oscar.
I visited you on Sunday, 17 October 2004 and took Oscar home that day and it was the best thing I ever did! He is such a handsome boy and a special companion to me. His also well loved by his "grandparents" and "auntie". He has truly become part of the family.
Oscar has been attending obedience training since November 2004 and he has reached Class 3.
I have attached a couple of pictures of Oscar. As you can see, he is doing well and is a very happy boy.
Regards
Hanna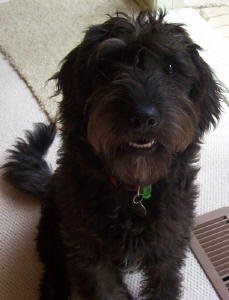 Schnoodle - Oscar
---
Schnoodle - Maggie
Maggie had her 12 week vaccination last weekend and had her first walk today. She loved it – so did the kids. She also went to puppy school and had her first play with other dogs yesterday. She loved it and seems pretty sociable and relaxed. She has settled in really well and has a lovely personality – quite gentle but can get very excited and loves a play – as all puppies do.
Best Wishes
Schnoodle - Maggie
---
Labradoodle - Kynda
Hi,
My name is Kynda. I am a Labradoodle. My mummy and daddy, Wendy and Dave, have helped me make my own webpage Kyndas Kastle.
Labradoodle - Kynda