SPOODLES FOR SALE
Last Updated 21/9/23
We are a licensed Domestic Animal Business with over 26 years of experience breeding non-shedding family companion dogs. We comply with the relevant Victorian government legislation. Wellington Shire WSC392015. Source number BR101400.
All puppies sold are desexed, microchipped, vet checked, vaccinated, wormed and guaranteed.
Our bloodlines are DNA tested to be free of genetic diseases including PRA and many more.
Viewing of available puppies can be arranged by making an appointment. We are located near Traralgon in Victoria. We can arrange transport for interstate customers.

Valley View Non Shedding Spoodle Puppies
AVAILABILITY
---
AVAILABILITY: Please email to find if we have available puppies. We expect a litter of Chocolate and Choc Parti Miniature Spoodles that would be ready for new homes in November. The Victorian dog breeding legislation requires all advertisements for dogs/puppies to include the microchip number of an implanted microchip. Typically, puppies are not microchipped until 6 weeks of age, meaning younger puppies cannot legally be advertised. We often have up to 7 week old puppies available to order that are not advertised on our website.
Email us to find out more about availability, or if you would like to be added to our Spoodle mailing list to be notified when more Spoodle puppies become available to order. We require your name, email address and the breed you are interested in to add you to our mailing list.
Please call or email for more detailed information about us, our dogs, timeframes and the process of getting a puppy.
Wellington Shire WSC392015 Source number BR101400

Related Links:
Spoodle Information
Pictures of Spoodle Puppies
Spoodle Pictures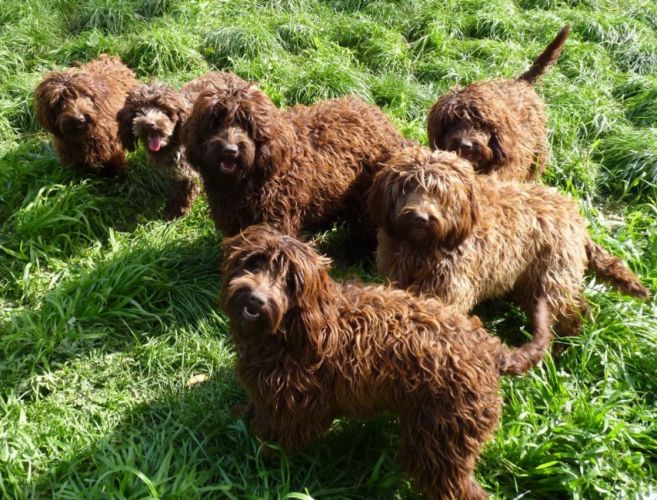 Spoodles happily playing and socializing in the field
(Example - Not for sale)