SPOODLE INFORMATION
The Spoodle is one of Australia's most popular dog breeds. Spoodles are also known as Cockapoos. Our Spoodles have very soft coats, often in a beautiful chocolate colour. Spoodles lifespan is approximately 12 - 16 years.
We specialize in multi generational non-shedding chocolate Spoodles and are the only breeders of them in Australia. Our Spoodles are a cross between a poodle and a Cocker Spaniel. We have Spoodles from both English and American Cocker Spaniel lines. We don't use Springer Spaniels as they are too bouncy for the family-friendly type of dog we breed. A lot of people are misled about Spoodles. They are not all non-shedding. While a Cocker Spaniel crossed with a poodle is most of the time a shedding dog, Spoodles have to be at least third or fourth generation to be guaranteed non-shedding. Cocker Spaniels shed, so first and second generation Spoodles are likely to shed as well. For people with allergies or wanting a non-shedding Spoodle, we recommend at least a fourth generation Spoodle.
Spoodle Size Guide
We breed 3 sizes of Spoodle.
MINIATURE SPOODLE

Height at the shoulder: 30-40 cm (12-16 in)
Weight: 6-12 kg (13-26 lb)
MEDIUM SPOODLE

Height at the shoulder: 40-51 cm (16-20 in)
Weight: 12-23 kg (26-50 lb)
STANDARD SPOODLE

Height at the shoulder: 51-66 cm (20-26 in)
Weight: 20-30 kg (44-66 lb)
Spoodle Colours
We specialize in the rare chocolate and chocolate parti (white with chocolate patches), but also breed black, black parti and cream Spoodles.
Common Spoodle colours are golden, black and apricot.
Spoodle Generational Breed Guide
1st generation or F1 – Cocker Spaniel x Poodle.
2nd generation or F2 – 1st generation Spoodle x Poodle.
3rd generation or F3 – 2nd generation Spoodle x Poodle.
4th generation or F4 – 3rd generation Spoodle x Poodle or a Cocker Spaniel (all depends on what coat type we are after)
Multi generational – 3rd generation Spoodle x 3rd generation Spoodle.
Spoodle Temperament
Our Spoodles have a very loyal, loving nature and are always willing to please you. Their happy, gentle nature makes them an ideal companion as they are a very easy going dog that loves playing with humans and other animals.
Spoodle History
We are one of the first Spoodles breeders in the world and have been breeding them since 1993. Our Spoodles are REAL Spoodles that have only Cocker Spaniel and Poodle DNA in their lines.
The Spoodle has quickly proven to be a popular family companion due to its trainability and loving, easy-going nature.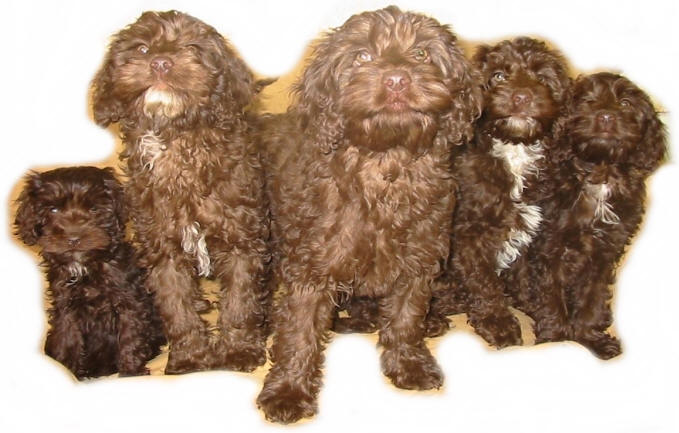 Related Links:
Spoodle Puppies For Sale
Pictures of Spoodle Puppies
Spoodle Pictures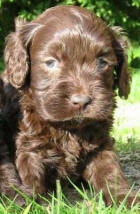 Miniature Spoodle Puppy - Alexia

Chocolate Spoodles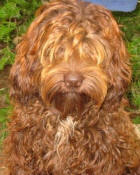 Miniature Spoodle - Marlene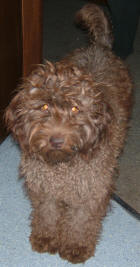 Miniature Spoodle - Abby