PARTI LABRADOODLE INFORMATION
Parti describes a predominant colour broken by patches of one or more other colours. In our Parti Labradoodles the predominant colour is white broken by patches of either black, chocolate or tan. Valley View are the first Parti Labradoodle breeders in Australia. It has taken us 18 years of quality breeding to get non shedding Parti Labradoodles bred from proven health tested pedigree parents to ensure our dogs are as free as possible from genetic disorders. Life expectancy is 12 - 16 years.
Valley View True Parti Labradoodles
Valley View is one of the rare Parti Labradoodle breeders that still breed True/Real Labradoodles (meaning that our Labradoodles only have Labrador and Poodle DNA, no other breeds are mixed into the lines).
Here at Valley View we don't take short cuts by adding Spoodles, Golden Retrievers, Irish Water Spaniel, Curly Coat Retriever, American Cocker Spaniel, English Cocker Spaniel, Wheaton Terrier, Portuguese Water Dogs etc to get different colours or sizes of Labradoodles which a lot of Labradoodle association breeders/Australian Labradoodle breeders do.
The origin of the parti colour in our breeding lines of Labradoodles comes from the poodle carrying the parti gene not a Spoodle or cocker spaniel which is a short cut and is not a true Labradoodle but is classified as a Australian Labradoodle!
A True/Real Labradoodle has only Labrador and Poodle DNA and nothing else in its breeding, that is what a Labradoodle should be.
Valley View has Multi generational parti Labradoodles, F3, F4, F5 etc non shedding fleece and wool coated miniature, medium and standard sized both in chocolate and white and black and white and tan and white.
Valley View is now offering the finest quality and extremely rare true Parti Labradoodles to the public and to other Labradoodle breeders to improve their breeding programs with real Parti Labradoodle breeding lines.
We hope this page has helped you understand the breeding of Valley View True Labradoodles.
What is generally known as an "Australian Labradoodle" is really a mix of many breeds, which is not necessarily desirable.
Labradoodle Sizes
There are 4 sizes of Labradoodles we breed.
TOY LABRADOODLE

Height at the shoulder: 20-30 cm (8-12 in)
Weight: 3-6 kg (6-13 lb)
MINIATURE LABRADOODLE

Height at the shoulder: 30-40 cm (12-16 in)
Weight: 6-12 kg (13-26 lb)
MEDIUM LABRADOODLE

Height at the shoulder: 40-51 cm (16-20 in)
Weight: 12-23 kg (26-50 lb)
STANDARD LABRADOODLE

Height at the shoulder: 51-66 cm (20-26 in)
Weight: 23-45 kg (50-100 lb)
Parti Labradoodle Colours
We are the first Parti Labradoodle breeders in Australia and breed chocolate and white, black and white and tan and white Parti Labradoodles. Labradoodles eyes are coloured from dark brown to a golden hazel.
Parti Labradoodles grow spots as they get older called freckling which happens in the white part of the coat.
Freckling Example
The two pictures above show how the freckling is more prominent when the puppy grows into an adult
Chocolate and White
Black and White
Tan and White
Parti Labradoodle Temperament
Labradoodles are the ultimate family companion, loving and kind with children, intelligent with adults, patient and devoted to the elderly and are sociable with other animals. Labradoodles are always eager to accompany you for a walk or bike/horse riding but are equally as happy receiving pats or snoozing close to you. Running, fetching the ball, swimming, cuddles and stretching out for a nap are some of their favourite pastimes.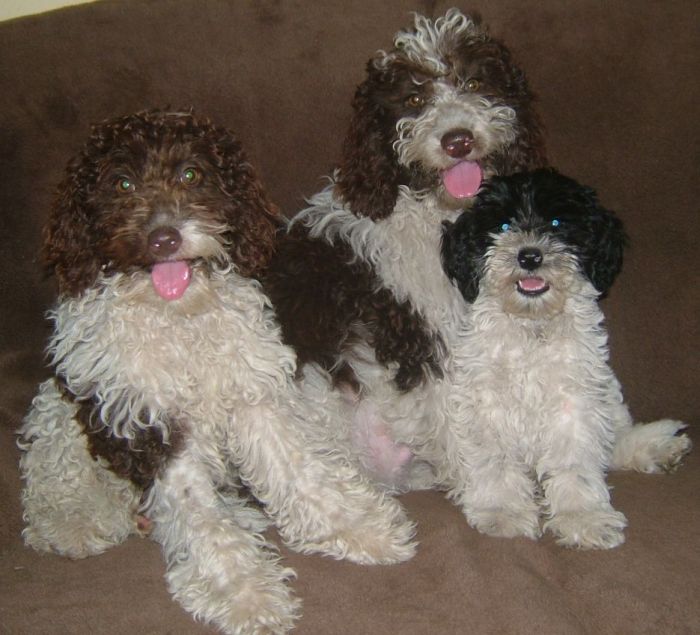 Related Links:
Parti Labradoodle Puppies For Sale
Pictures of Parti Labradoodle Puppies
Parti Labradoodle Pictures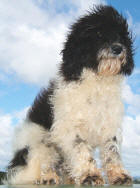 Parti Labradoodle - Hansel

Parti Labradoodle - Mojo
Parti Labradoodle - Sidney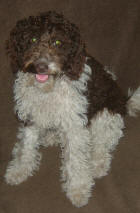 Parti Labradoodle - Cisco
Parti Labradoodle - Panda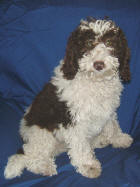 Parti Labradoodle - Tyson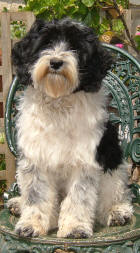 Parti Labradoodle - Pinto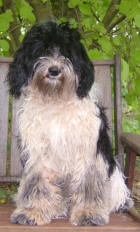 Parti Labradoodle - Jill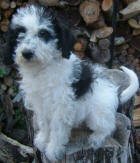 Parti Labradoodle - Blinky